The orange mountains of Kerlingarfjöll are one of the most beautiful places in the highlands of Iceland. Its main geothermal area – the Hveradalir Hot Springs – offers otherworldly colors like no other place in the world!
You can best enjoy the spectacularness of this place on one of the fantastic Kerlingarfjöll hiking trails or by soaking in the Kerlingarfjöll hot spring!
We have been to Kerlingarfjöll three times and are happy to share all our experiences about the area, trails, places, and conditions.
When visiting Kerlingarfjöll, be sure to also visit a nearby Hveravellir Geothermal area (different from Hveradalir) next to Kjölur Road 35, as we did!
First, a little trivia:
Hveradalir = geothermal area with bubbling mud holes, where you CAN NOT bathe
Kerlingarfjöll Hot Spring = hotpot where you CAN bathe, four miles away from Hveradalir
Hveravellir = another geothermal area with bubbling fumaroles, 30 miles away from Kerlingarfjöll
Kerlingarfjöll Map
How to get to Kerlingarfjöll
You can easily get to Kerlingarfjöll in summer by highland roads (F)35 and F347 from the south or the north.
The optimal route depends on what your other plans are. Technically, it's a shorter route from the south, but the difference is negligible.
By Car
Kjölur, Kjalvegur, or just (F)35 is a long gravel road connecting north and south Iceland. Somewhere around halfway through it lies the detour towards the Hveravellir hot springs area, and a bit further towards the south lies a detour towards Kerlingarfjöll.
There are better parts of Road 35 and worse parts of Road 35. Better parts mean you may drive quite fast. Worse parts mean a lot of potholes and turns, i.e., you have to drive slowly. Importantly, there are no river crossings on F35, only very small ponds doable even by a 2wd car.
A final detour to Kerlingarfjöll, F-road F347, also has no river crossings and is pretty similar to F35. The closer you approach the Highland Base, the more the road becomes mountainous and interesting.
By Bus
There used to be a bus service from Reykjavik to Kerlingarfjöll, operated by Gray Line, but it has been discontinued recently. Most likely due to being uneconomical for the bus provider.
The only way to reach Kerlingarfjöll other than driving there yourself is by taking the guided tour.
By Tour
Only a handful of providers in Iceland offer guided tours to Kerlingarfjöll. We picked two of them – one from Reykjavik and one from Akureyri, which we believe are the best. We also partnered with them to exclusively offer you discounts on these tours.
5% discount code for the Kerlingarfjöll guided bus tour from Reykjavik: EPICICELAND23
The cheapest option is to take the Kerlingarfjöll bus tour from Reykjavik.
The most exciting option is to take the Kerlingarfjöll super jeep tour from Akureyri.
10% discount code for the Kerlingarfjöll super jeep tour from Akureyri: EPICICELAND
Best places in Kerlingarfjöll
You can easily see the top places in Kerlingarfjöll in one day. And they mostly involve breathtaking hikes.
The most popular place to visit is undoubtedly the Hveradalir Geothermal Area, the main attraction of Kerlingarfjöll. But there are also many other spots, not many travelers know about!
Kerlingarfjöll Hikes
The number one activity is hiking. Kerlingarfjöll treks offer unique, stunning, and mystical views that will make you feel like you're on another planet.
How to Prepare for the Highlands road trip in Iceland.
The most famous hike is the shortest Hveradalir Hot Springs hike among scenic orange hills and bubbling hot pots. Our favorite is the much lesser known Snækollur hike instead, with even better views!
Horseshoe Bend
The Horseshoe Bend is a place that got famous thanks to Instagram, yet almost nobody knows its location. Well, this picturesque twisted river is situated next to Road F347 to Kerlingarfjöll.
Gýgjarfoss Waterfall
Another beautiful stop along your way to the Hveradalir Geothermal area should be Gýgjarfoss waterfall. It typically stays almost unnoticed along Road F347.
Kerlingarfjöll hot spring
There is one and the only hot spring in Kerlingarfjöll where you can bathe. It's totally worth a separate 1-hour hike!
The Highland Base
The only accommodation in the area used to be called the Kerlingarfjöll Mountain Resort. However, it has recently gone through a major reconstruction and will soon turn into the luxurious Highland Base.
Exclusive Discounts for the best car rentals and guided tours in Iceland.
Best hikes in Kerlingarfjöll
Once in Kerlingarfjöll, you have numerous hiking options. The two most popular Kerlingarfjöll hiking trails we really enjoyed are the hike to Hveradalir and the Kerlingarfjöll Hot Spring hike.
Although these two hikes are a must-see, we recommend checking out also the other hikes in Kerlingarfjöll! Some of them are even more scenic than these two! Our secret tip is a hike to Fannborg and Snækollur.
Map of Kerlingarfjöll hiking trails
Above is the Kerlingarfjöll hiking trails map depicting the most favorite trekking options.
You can also check out an even more detailed map of Kerlingarfjöll hikes by the Icelandic Environmental Agency.
If you are unsure about the Kerlingarfjöll trail conditions, you can consult by email with EIA, or with SafeTravel.
1. Hveradalir geothermal area hike
Hiking time: 1 to 3 hours
Difficulty: easy to moderate, due to a lot of stairs
Trail Map: Hveradalir hiking trail
Hveradalir lets you see one of the most stunning views of Kerlingarfjöll in the shortest amount of time possible.
Hveradalir geothermal area is one of the most captivating places I've ever been to in my life – together with Askja, Landmannalaugar, and the F-roads south of Landmannalaugar.
This time it's not rainbow mountains, no black sand, no green moss. This time, it's orange mountains mixed with wild sulphuric hot springs and snow. A lot of snow. And cold. And the wind. Welcome to Hveradalir.
2. Kerlingarfjöll Hot spring hike
Hiking time: 1 hour, one-way
Difficulty: easy
Trail Map: Kerlingarfjöll hot spring trail
The easiest picturesque trek in the area is the hike to Kerlingarfjöll Hot Spring. With a very rewarding end!
You will be traversing a cute green canyon with a river until you get to the only bathe-able hot pool in Kerlingarfjöll.
3. Snækollur hike
Hiking time: 2 hours, one-way
Difficulty: moderate to difficult, some parts are steep and slippery
Trail Map: Snækollur hiking trail
If you asked us for one hidden gem in Kerlingarfjöll, we would immediately reply: Snækollur hike.
Very few visitors aim to hike the Snækollur peak, yet it offers the best views of Kerlingarfjöll. Snækollur is also the highest summit in the area.
Right before reaching Snækollur, you will also pass the peak of Fannborg, a great short stop with dazzling views as well.
4. Highland Base to Hveradalir hike
Hiking time: 4 to 6 hours, round-trip
Difficulty: moderate, due to a lot of stairs
Trail Map: Highland Base to Hveradalir hiking trail
Want to hike to Hveradalir? You don't have to drive all the way there, you can also start at the Highland Base. This area is called Ásgarður in Icelandic.
It will take you around an hour and a half to reach the Hveradalir area, and you may enjoy some additional nice views on top of that.
The main advantage of this trail is that the Highland Base is both your start point and endpoint. The disadvantage is the time aspect, as you will be spending additional 3 hours just getting to and from Hveradalir.
5. Hverabotn hike
Hiking time: 2 hours, one-way
Difficulty: moderate
Trail Map: Hverabotn hiking trail
Hverabotn is another geothermal area in Kerlingarfjöll, different from Hveradalir. It's located further away from the main area, which is a reason why it's not so popular.
You can hike to Hverabotn either from the Highland Base or from Hveradalir. Either route you choose, it will take you less than 2 hours one-way.
6. Skeljafell hike
Hiking time: 2 hours, one-way
Difficulty: moderate
Trail Map: Skeljafell hiking trail
Now we are coming to the more off-the-beaten-path hikes in Kerlingarfjöll chosen only scarcely by foreign visitors. One such hike is Skeljafell.
Skeljafell hike is located entirely away from Ásgarður or any main Kerlingarfjöll area. You need to drive a dirt track to get to the starting point.
Once on this hike, don't miss Kerling Mountain, after which the entire Kerlingarfjöll is named!
7. Ásgarðsfjall hike
Hiking time: 30-60 minutes, one-way
Difficulty: moderate
Trail Map: Ásgarðsfjall hiking trail
Another overlooked hike of Kerlingarfjöll is a trek to Ásgarðsfjall.
Ásgarðsfjall Hill sits right next to the Highland Base and offers fantastic views of the campsite and all the surroundings.
For awesome views you don't even need to hike to the peak, you can just take walks around the Ásgarður valley.
8. Mænir hike
Hiking time: 3 to 5 hours, one-way
Difficulty: difficult
Trail Map: Mænir hiking trail
Mænir is one of the tallest peaks of Kerlingarfjöll. It's also part of the legendary multi-day ring hike called the Hringbrautin Circuit.
Hiking Mænir is more difficult due to poorly marked trails and challenging terrain. On the other hand, you will definitely be alone on this expedition and enjoy one-of-its-kind views.
9. Ögmundur, Röðull and Höttur hike
Hiking time: 3 to 5 hours, one-way
Difficulty: very difficult, glacier crossing
Trail Map: Hiking trail
If you are up for a challenge and a very experienced hiker, you may attempt at hiking the three peaks of Ögmundur, Röðull, and Höttur. The panoramas will be stunning.
These three summits too are among the tallest in Kerlingarfjöll and are often covered by snow, even in summer.
10. Hringbrautin Circuit
Hiking time: 2 to 3 days
Difficulty: difficult
Trail Map: Hringbrautin Circle hiking trail
The Hringbrautin Circuit, also known as the Ring Route or the Kerlingarfjöll Peaks Hike, encompasses all the biggest summits of Kerlingarfjöll.
This hike is sometimes wrongly being called as Austurfjoll Peaks by other bloggers who haven't even hiked any of these peaks.
This is a very challenging multi-day hike, where you will be going to need very good gear (e.g. crampons) and be in a very good physical condition. It will take you about three days and involve sleeping in mountain huts, bivouacking, and crossing rivers.
Our Kerlingarfjöll Tips and Experience
When to go
You can easily visit and hike Kerlingarfjöll only in summer, typically from June to September. This is when the roads to Kerlingarfjöll are officially open to foreign visitors.
Our tip: Always check the current road conditions in Iceland before driving on any Highland road.
The orange mountains are fully covered by snow, and not orange anymore, from around November until April.
In winter, you can still visit Kerlingarfjöll by taking a local private super jeep tour, but it's a bit pointless and expensive in our opinion.
How to Choose the Best Car for Iceland.
Where to stay
The accommodation options in Kerlingarfjöll are very scarce. Only one place, the Highland Base, is designated for overnight stays. Alternatively, you may also stay in Hveravellir.
The Highland Base Hotel
The Highland Base Hotel is the newly refurbished lodge and the only hotel in Kerlingarfjöll. It used to be called the Kerlingarfjöll Mountain Resort.
It now offers multiple different accommodation options in various budget categories. You can stay in the mountain hut, in the luxury lodge, or even in the dormitory room.
Kerlingarfjöll Campsite
You can camp in Kerlingarfjöll in summer. The campsite is located just next to the new luxurious Highland Base Hotel. Just bear in mind the weather conditions.
Kerlingarfjöll camping is one of the coldest places in Iceland available for camping.
On the 8th August, 3 pm in the afternoon (i.e. probably one of the warmest times possible) the temperature climbed to tropical 5°C (41°F). And the strong wind didn't help it at all, making everything feel even some 5°C colder. Now doing the math that nights are additional 5°C-7°C colder compared to daytime temperatures, you're going to be freezing for sure.
Our Tips
Come on a day with clear skies. Or at least try to do it. It will be a very hard task,  but more than just worth it!
Don't go when it's too foggy. Or when it rains too much. You will see very little of otherwise breathtaking Hveradalir.
Bring hiking poles. If you plan any longer hikes than just the main Hveradalir Geothermal Area.
Dress well. Layers are a must. Kerlingarfjöll is one of the coldest places in Iceland. Daily summer temperatures often hover just around 5°C (41°F).
Hike to Snækollur. If you are fit enough. This is the most rewarding hidden hike of Kerlingarfjöll.
Take a dip in the hot spring. There's just one where you can bathe, but totally worth the detour.
Leave the pretty shoes at home. The orange soil in Hveradalir will partially destroy your shoes. At best, they will just be very dirty.
Check the conditions before going. The road conditions, the weather forecast, and any safety warnings.
Our Experience
We have been to Kerlingarfjöll several times and wrote an even more detailed article about our first full-day visit to Kerlingarfjöll and Hveravellir geothermal areas than this one.
In short, we drove F35 from north to south. We first stopped at Hveravellir hot spring area, then hiked at Kerlingarfjöll as a highlight, and we finished our day in the south by seeing Gullfoss and Strokkur. We had camped at Varmahlíð campsite the night before.
Our drive to Kerlingarfjöll
Having already experienced awe-inspiring roads like the F208 south of Landmannalaugar, the stellar F235 leading to Langisjór, or the lunar landscapes of F905 and F910 near Askja, the F35 appeared to be a standard gravel highway with no exceptional features to take note of.
But remember, we are still talking about Iceland, so the environment will always be lovely, just not extraordinarily so (as was the case with formerly mentioned roads).
The F35 also seemed to attract a pretty high volume of cars. This can be a slight nuisance as many of them either crawl along at a snail's pace or race down the track. And, as you can imagine, Icelandic F-roads are not exactly designed for maneuvering past other vehicles.
Our Hveradalir hike experience
Once we reached Hveradalir geothermal area via a quite steep final part of the road F347, we felt like entering a whole new world. The orange-white universe.
Our tip: If you put "Hveradalir" in the Google maps, the place with no road appears, quite far from the car park. The main hiking area starts right next to the parking lot.
We spent roughly an hour and a half wandering around the place, savoring each second, except for the chilly gusts.
As for visibility, the foggy mist would dissipate to reveal slightly clearer skies, and then roll back in again, all in a span of 5 minutes. Therefore, a little patience could reward you with better photographic opportunities. Alternatively, you could just get lucky and arrive during a clear weather spell.
Our tip: There are several smaller hills with wooden stairs-like steps almost on each of them to help you with the ascent. Your shoes will be full of orange clay anyway, though.
We hiked about 4-5 hills, retracing from each back when deep snow began to blanket the path or when we ascended to heights entirely shrouded in fog.
Our Kerlingarfjöll hot spring experience
On our second visit to Kerlingarfjöll, we finally managed to hike to the Kerlingarfjöll hot spring where you can bathe. And I highly recommend you take this hike!
Our tip: The trail is marked well and this walk can easily be done also with small children.
We did this easy trek in a moody weather accompanied by a light drizzle and it was pleasant anyway. The most rewarding is naturally the end with the hot spring hidden in the middle of nowhere.
Our Snækollur hike experience
On our most recent trip to the central highlands, we hiked the tallest peak of Kerlingarfjöll – Snækollur. And this was our ultimate adventure in the area.
Snækollur hike is more difficult, but it was worth every (steep) step for us. Especially on a clear day. We encountered one of the best views in Iceland at Snækollur.
Kerlingarfjöll vs Landmannalaugar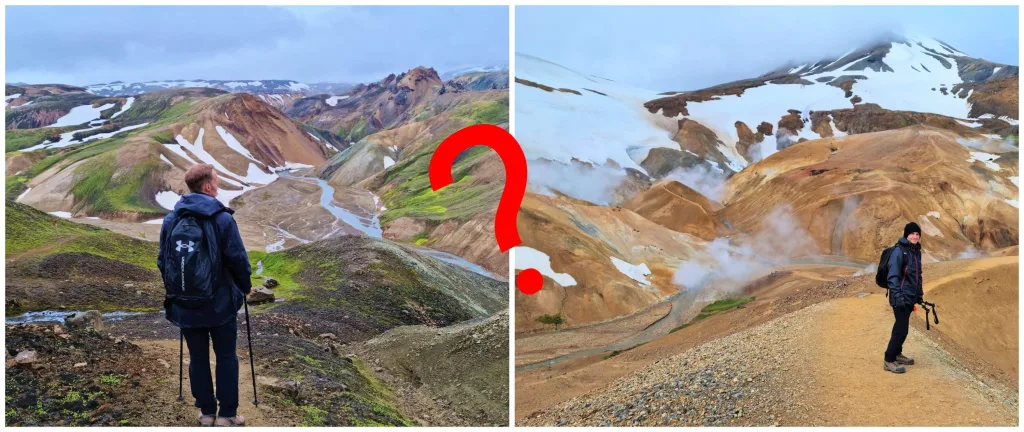 Should you rather visit Landmannalaugar or Kerlingarfjöll? If you have the opportunity, don't hesitate and go see both! Experiencing Landmannalaugar is very different from Kerlingarfjöll.
Both are located in the Highlands and are predominantly hiking areas, but the commonalities end here. The comparison doesn't make much sense to us, but if you insist, here is the one:
LANDMANNALAUGAR:
Rainbow mountains, more colorful, green and blue are present
Bigger campsite, more visitors
More difficult and also more beautiful access roads
Various hikes of various difficulties
Typically a pretty crowded free hot spring
KERLINGARFJÖLL:
Orange mountains with hot springs and fumaroles
Less packed campsite and fewer visitors
Easy access roads
Various hikes of various difficulties
Typically an empty remote hot spring
So what if you can visit only one of these places? It's best if you decide based on where's better weather. If the weather is the same, I would then go for Landmannalaugar because it's slightly more impressive and diverse for a first-time visitor and also closer to the ring road.
YOU MAY ALSO LIKE:

ask questions or get inspired in our community