Hidden Gems in Iceland are increasingly challenging to find. Many travelogues claim to list them, but in reality, they are not hidden anymore and are often crowded.
To reach the authentic off-the-beaten-path places in Iceland, you need to do something different than everyone else. You have to step out of your comfort zone.
We have been exploring hundreds of Icelandic spots away from the crowds for years. They are never easy or quick to get to. There is always a trade-off between "easy" and "hidden".
Below we list the 25 places we still believe to be Icelandic hidden gems. You need to, however, plan your road trip carefully in advance when, for example, exploring the Highlands. And you may fail on your first attempt. But that's the beauty of exploration!
Map of Hidden Gems in Iceland
1. Graenihryggur ridge
Why go
Everybody visits the famous Landmannalaugar mountains and goes on the same two hikes – Bláhnúkur and Brennisteinsalda. But did you know there's an even more beautiful hike in Landmannalaugar almost nobody knows about? That is the Grænihryggur hike.
We wrote a detailed guide on How to hike Graenihryggur.
Graenihryggur is the green ridge hidden deeper in the rainbow mountains. On your way there, you will meet some of the most stunning Icelandic landscapes of all different colors. Graenihryggur is one of our favorite Icelandic treks only locals take.
How to get there
You have to first get to Landmannalaugar. You can then find the Grænihryggur trailhead on the highland road F208, about 10km (6 mi) south of the final highway F224 to Landmannalaugar.
A 4wd car is necessary to drive on these roads. We better recommend at least a medium-sized 4×4 car.
An often overlooked sign beside the road indicates the hiking trail. You have to park your car next to the road.
Our tips
Graenihryggur hike is very scenic but also a bit more difficult. It involves crossing snowfields, climbing steep, slippery hills, and even crossing a shallow river. Go only in summer and prepare well in advance.
2. Sturlungalaug hot spring
Why go
Sturlungalaug hot spring is one of our favorite hot springs in Iceland because it's wild, in the middle of nowhere, and you will most likely be there alone.
We wrote up a List of All Hot Springs in Iceland.
If you catch a nice day, you will get a bonus of gorgeous views around the Snæfellsnes peninsula. Sturlungalaug is large enough to accommodate even groups of friends, so no worries, it's not just for couples.
How to get there
To reach Sturlungalaug, you need to take a gravel dirt track as a detour from Heydalsvegur, or Road 55, in Snæfellsnes.
You can get to Sturlungalaug only in summer when the road leading there is snow-free. You need a 4wd car or at least any car with higher ground clearance to pass the bumpy path safely.
There's a little car park for about 2-3 cars; from there, it's just a minute toward the hot pot.
Our tips
The grass around the hot spring may be wet. You can bring some slippers to handle this.
The temperature of the water in Sturlungalaug varies around the year. There's no guarantee it will be hot during your visit. The pool even received some bad reviews from visitors due to this, but we think it's impressive anyway!
3. Huldujökull glacier
Why go
One place that really positively surprised us as a true hidden gem in Iceland was Huldujökull glacier. Very few folks know about this spectacular hike with a live view over a melting and falling glacier!
The Huldujökull glacier hike is especially astonishing on a sunny day. You may witness massive glacier chunks as they tear from the glacier base and fall down into a deep ravine below. We've never seen anything like that in our lives!
We wrote a detailed article about our hike to Huldujokull in Þakgil.
How to get there
Huldujökull is located in Thakgil, and it's the longest day trek you can take in this hiking area.
In short, you first need to reach the Þakgil campsite via road 214. The road is open for visitors only in summer, typically from mid-June until the end of September. We recommend driving a higher ground clearance car because the road is very bumpy.
Once in Thakgil, you must take the yellow or red hiking trail. When you reach the northernmost end of these trails, you need to continue to the north via a partially marked white trail. After hiking further along the eastern ridge of the Þakgil Canyon, Huldujökull will appear in front of you on a clear day.
Our tips
Don't go on a foggy day, you will see nothing. We also highly recommend avoiding heavy rain and winds, as they can be dangerous.
Our favorite day hike was a Yellow Trail – Huldujökull – Red Trail loop. It's a long and challenging hike but very much worth your energy.
4. Strútsfoss waterfall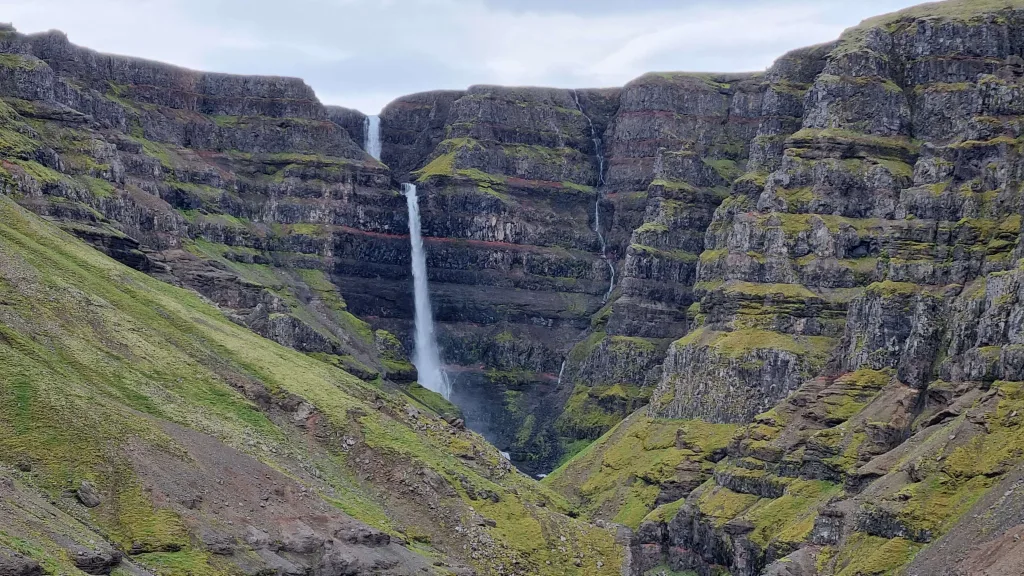 Why go
Have you ever heard about Hengifoss, the red strata waterfall in East Iceland? The car park is typically completely packed, and the path to Hengifoss suffers from human traffic jams.
What about an even larger red strata waterfall with a two-level cascade where you will be alone? Well, that exactly is Strútsfoss.
List of 130 most beautiful Icelandic Waterfalls with detailed info.
Strútsfoss is breathtakingly picturesque, and you can reach it via an easy hiking trail, suitable also for a nice family hike.
How to get there
Why is Strútsfoss still a hidden gem, then? Because it's not so easy to find the trailhead.
The main orientation point you have to get to is the Sturluflöt farm. Strustfoss car park lies right next to the farm. You must take Road 935 on the southeastern bank of the river and drive all the way to the farm.
The major part of this road is not depicted in international maps like Google Maps. But the road is there and is an easy gravel road accessible in summer. Not sure about the winter, though.
Any car should be able to make it to the car park. It then takes about 1 hour of easy hiking from the car park to reach Strútsfoss.
Our tips
It's impossible to get very close to the waterfall. It would involve hiking on unmarked trails and treacherous river crossings. We don't recommend doing that without a local guide.
However, the main viewpoint at the end of the marked hiking trail is more than stunning anyway.
Why go
In our humble opinion, Brúnavík beach is the most beautiful hike in Borgarfjordur Eystri and one of the most stunning beaches in Iceland. It can be proudly considered one of the hidden gems in Iceland.
When hiking to the Brúnavík beach from Bakkagerdi, we felt like on another planet. The beach is particularly jaw-dropping on a sunny day.
The best viewpoints of the Brúnavík hike are in the second half of the trek when you descend to the beach and then on the beach itself.
How to get there
The trailhead can easily be overlooked as it is located just on the side of Road 94 near the Kolbeinsfjara cliffs in Bakkagerdi.
Our Brúnavík beach hiking experience in September.
There's a little car park that can serve only a few cars. It will then take you about 2.5 hours and 8 kilometers (5 miles) of moderate hiking to reach Brúnavík.
There are several hiking trail options. We wrote a detailed article about our hikes in Borgarfjordur Eystri and also alternative hiking options around Brunavik.
Our tips
An out-and-back hike to Brúnavík beach is the most efficient option with the best views.
Don't get discouraged by the first half of the hike. It's a tad uneventful without extraordinary views. Nevertheless, the main reward will come during the second half of the trip.
6. Snaekollur hike
Why go
Snækollur is the tallest peak of the otherworldly orange mountains of Kerlingarfjöll. If you climb Snaekollur on a clear day, you will be guaranteed the best views over the entire Kerlingarfjöll.
Almost every Kerlingarfjöll visitor hikes just the main geothermal Hveradalir hot spring area. While beautiful, it's not the best viewpoint of Kerlingarfjöll. The peak of Snaekollur is.
How to hike Snaekollur in Kerlingarfjoll – our detailed experience.
Hike to Snækollur is more challenging compared to Hveradalir, but totally worth every step.
How to get there
First, you need to arrive at the main Kerlingarfjöll area by highland roads (F)35 and F347. For that, you need a 4wd car. Even a small one should be sufficient.
Right before Hveradalir, you must take the detour left to Fannborg car park. This is where the trailhead to Snækollur begins.
Our tips
The Snaekollur hike is not the easiest one, but also not one of the worst. Bring hiking poles, watch the weather forecast in advance, try to avoid heavy rain, fog, and winds.
Orientation may be a bit difficult because the marks are infrequent and, at some points, disappear altogether.
7. The Waterfall Circle
Why go
The Waterfall Circle is a magical place in the eastern highlands of Iceland you've most likely never heard about. It's one of Iceland's most incredible waterfall hikes, together with the famous Waterfall Way in Skógar.
There are almost ten waterfalls of various sizes and shapes along the Waterfall Circle. The two most astonishing ones are called Faxi and Kirkjufoss.
If you are at least remotely a waterfall enthusiast, this hike is an absolute must-do for you!
How to get there
The Waterfall Circle trailhead begins at Laugarfell Guesthouse. You may leave your car there.
How to visit Highlands of Iceland – guide to an epic road trip.
You can get to Laugarfell by any car from around June until September. The same applies to the hike, which is snow-free precisely during this period.
Our tips
The waterfall trek is moderately difficult, about 8km (5 mi) long, and takes about 3 hours to complete.
When you have enough time, be sure to also soak up in a nearby Laugarfell hot spring (paid).
If you, instead, prefer a wilder experience, you may take a longer drive to the other side of the Kárahnjúkar dam. There you may hike around the magnificent Hafrahvammagljufur canyon or take a dip in a wild Laugavallalaug hot spring.
8. Hungurfit track
Why go
Hungurfit Road is one of the toughest tracks to drive in southern Icelandic highlands. And also one of the most fairy-tale-like.
Hungurfit is the name of the mountain hut in the middle of this dirt track. The track connects F-roads F210 and F261 across the highlands, and it's one of the top off-the-beaten-path roads in Iceland.
What are the dirt tracks in Iceland? Can you drive them too?
The entire area is an excellent spot for 4×4 enthusiasts as well as nature lovers. The highlights of Hungurfit drive include Lush green valleys, hills with views over highlands, and countless small streams and medium river crossings.
How to get there
Hungurfit is strictly only for advanced 4×4 drivers equipped with proper cars. A large 4wd vehicle is an absolute minimum, and we highly recommend renting a super jeep to pass the track safely.
Hungurfit track is very rough, with uneven terrain, steep ridge drives, and several river fords. You can get to Hungurfit from the north from road F210 or from the south from F261.
Our tips
The most scenic spot is a narrow pass between two colossal stone boulders. You have to pass it with an inch of precision, otherwise, you could damage your car.
This is where locals go play with their modified jeeps and where many private super jeep tours would take you on their highland tours.
9. Mt Laki
Why go
Mt Laki is the highlight of a visit to Laki Craters – an area full of hundreds of 200 years old volcanos. It is a once-in-a-lifetime experience to enjoy the surreal atmosphere of this place.
After just a short climb, Mt Laki offers an unbelievable one-of-its-kind view over the Laki volcanos. This is also one of our favorite spots in the highlands of Iceland.
If you plan a trip to Laki, be sure to check out our detailed guide to Laki craters.
How to get there
The main roads leading to Laki are F-roads F206 and F207. Both require you to drive at least a medium-sized 4wd car to pass without problems.
Roads to Laki craters are open only in summer, typically from early July until late September.
A drive to Laki is long, bumpy, and involves two medium-sized river crossings. One on F206 next to Fagrifoss waterfall and one on F207 near Tjarnargigur lake. We recommend reserving an entire day to visit Laki area at a relaxed pace.
Our tips
When going to Laki craters, don't forget to visit also the fabulous Fagrifoss waterfall next to F-road F206 and tranquil Tjarnargigur lake along the road F207.
10. Núpsárfoss waterfall
Why go
Núpsárfoss and Hvitarfoss are two hard to reach hidden gems among Icelandic waterfalls. They are unique waterfalls of two different watercolors right next to each other.
This scenic place has been formed thanks to a one of its kind natural phenomenon. Two different rivers, a clear river Hvítá and a glacial river Núpsá, flow into the same spot. This way, they create this unbelievable play of colors.
If you are adventurous and love exploring entirely remote spots, then a hike to Núpsárfoss will be one of your favorites. Zero tourists expected.
How to get there
Getting to Núpsárfoss is very difficult. Although located not too far from the ring road, next to Skaftafell park, there's no road or marked trail leading to Núpsárfoss or Hvitarfoss.
Love remote places? Check our list of 25 best places in the Highlands of Iceland.
There is a dirt track for super jeeps that can get you closer to the waterfalls, however, it changes every year with the movement of nearby rivers. Sometimes it's even entirely flooded.
An alternative option is to walk from the ring road to the waterfall. Just bear in mind it's about 10km (6 mi) one way.
Once you reach the Núpsstaðaskógur area, you must then climb a several meters high rock with the help of the rope to reach the most beautiful viewpoints of the valley.
Our tips
We highly recommend contacting a local or a ranger in Skaftafell before the hike and asking about the best available trail at the time of your visit.
11. Raudaskal crater
Why go
Rauðaskál crater is one of Iceland's most impressive volcanic craters, yet overlooked by most visitors. Its unique red color makes it an attractive spot to visit in the southern Icelandic Highlands, close to the Hekla volcano.
Raudaskal experience also feels like one of the darkest and most remote corners of Iceland. You will be surrounded by the harsh volcanic area of Hekla with a very mysterious atmosphere.
How to visit Raudaskál crater in Iceland.
How to get there
You may drive to the upper edge of Raudaskal by a challenging dirt track suitable for big jeeps only and not covered by any insurance.
Alternatively, you can drive to the bottom edge of the crater and take a steep hike to the upper edge. The road leading to the bottom is still a problematic dirt track but more accessible than the one going up.
A large 4×4 car like Land Cruiser is an absolute minimum for this track. We would not drive to Rauðaskál in anything other than a super jeep. There may be snowfields, huge potholes, and steep slopes on the road.
The tracks are snow-free between July and September.
Our tips
Rauðaskál is not a trip for beginners in the Highlands. Practice 4×4 driving elsewhere first, and once you feel comfortable enough, then come and see the Raudaskal crater.
12. Hvannagil Valley
Why go
If you are looking for an off-the-beaten-path hike close to the ring road with panoramic views, look no further. The Hvannagil Golden Valley meets these criteria precisely.
Hvannagil is an area full of secluded canyons, dry river beds, and interestingly colored hills usually only Icelanders tend to visit.
Our detailed article about hiking the Hvannagil Valley.
How to get there
A gravel track called Grænahlíð on the eastern bank of the river Skyndidalsá will take you from Stafafell right into the heart of Hvannagil. Many Icelanders have their holiday houses here, so please don't park or stroll through the private property.
You can get to the bottom of the Hvannagil Valley by any car, although a higher ground clearance car will be more comfortable due to the large gravel on the road.
Our tips
We took the Hvannagil loop hiking trail and were happy about the choice. The loop is one of the most beautiful hikes in the area, and it took us just 2 hours to complete.
If you want to drive past the Hvannagil loop trailhead, come with at least a medium-sized 4wd car. The track gets tougher, steeper, and narrower the further you drive.
13. Strútslaug hot spring
Why go
One of the hardest-to-reach and isolated Icelandic hot springs in the wilderness? That is Strútslaug.
Quietly hiding in the middle of the southern highlands of Iceland, Strútslaug is a perfect spot for hikers seeking a refreshment during their highland treks.
Our day trip to Strútslaug hot spring in the highlands.
Strutslaug is not extraordinarily picturesque or comfortable to bathe in. However, what makes it rare is the adventure of reaching it with the reward of bathing alone in the highlands.
How to get there
The only way to reach Strútslaug is to hike. Strutslaug is located close to the famous Laugavegur trail and the Maelifell volcano.
The shortest hiking trail to Strútslaug leads from the Strútur hut and takes about 1.5 hours one way to finish.
To get to the Strútur hut, however, you need to drive various difficult F-roads and dirt tracks. First, the highland road F210 and then the Strútur dirt track. Both involve crossing medium-sized rivers and are suitable only for large 4wd cars and, ideally, super jeeps.
Our tips
The hike to Strútslaug from Strútur is easy and comfortably doable with kids. The tricky part is the drive.
Always consult your car rental company before driving any dirt tracks in Iceland. Typically all the insurance is void, and sometimes it's even forbidden unless you rent a super jeep.
14. Dynkur canyon
Why go
Dynkur, or in Icelandic also Búðarhálsfoss, is a gigantic canyon close to a highland road F26 filled with tens of picturesque waterfalls.
It is one of the least-known, yet stunning, waterfalls in the highlands. If you have enough time and a proper car around the Sprengisandur road, we recommend you go and see Dynkur.
An ideal time for a visit is in summer, from early July until late September. Outside of this period, the dirt tracks leading to Dynkur may be muddy, and you can quickly get stuck with no help nearby.
How to get there
You will not find roads to Dynkur on Google Maps. You have to use the local map.
How to choose the Best Car for Iceland based on your trip.
Take the gravel detour north of the road 26, but south of Sultartangalón. You can then reach Dynkur from the southern bank. You will have to hike a last mile or so.
What car do you need to reach Dynkur? Well, it depends. In dry summer conditions, any 4wd vehicle should be sufficient. However, once it rains or the track gets distorted, the bigger the 4×4 car the better.
Our tips
We always better travel to the highlands in the super jeep. Yes, it is expensive. But, once you go to remote places like this, there's always a risk something will happen to your car. And the bigger the car, the lower this risk.
15. Sveinstindur hike
Why go
Sveinstindur is the highest peak of the surreal Langisjór Lake area. Views from the summit of Sveinstindur on a nice day are simply breathtaking.
This is one of our favorite hidden gems in Iceland. We discovered it just a few years ago, and since then, we keep coming back as if we were pulled by a magnet.
The entire landscapes around Langisjór are unique, picturesque, and more than just worth a detour. For us, Sveinstindur resembles a hike somewhere on the moon.
How to get there
The easiest way to reach the Sveinstindur trailhead is by taking the F-roads F208 and F235 to Langisjór. The hike to Sveinstindur then takes about 1.5 hours to complete one way.
Our drive to Langisjór via F235 and our next drive via Langisjór dirt tracks.
The trek to Sveinstindur is short, steep, and well-marked with sticks. You will need to climb some narrow spots with rocks, so the hike is not for the faint-hearted. Hiking poles will surely help.
If you are an offroad enthusiast, you can reach Sveinstindur trailhead also by driving several adventurous dirt tracks around Langisjór like Faxasund, Botnlangalón or Skaelingar and Blautulón. A super jeep is preferable for these roads.
Our tips
We've made several attempts to hike Sveinstindur in rain and fog and to no avail. Don't make the same mistake as we've done. It doesn't make sense to hike Sveinstindur when it's foggy. You will not see anything.
16. Krakatindur track
Why go
As the name of this road suggests, Krakatindur is one of the darkest roads in the Icelandic Highlands. We drove Krakatindur on a rainy August day and it was a hell of an adventure.
A pointy green volcano mountain named Krakatindur is the main highlight of the dirt track. However, there's more to see.
How to rent a Super Jeep in Iceland?
The road begins next to the beautiful Raudaskal crater and connects it to the Raudufossar waterfall hiking trail. If you plan a day in the highlands around Hekla, Krakatindur is an exciting track to take.
How to get there
You can easily get to Krakatindur road when you turn south from the F-road F225, or Landmannaleid. However, this is where the easy part ends.
Krakatindur is very rough, and it's not even an F-road. There are huge holes and steep hillside drives at every step along the road. Only an experienced driver equipped with a super jeep should drive this road.
Our tips
We saw Dacia Duster entering one end of the Krakatindur track, but we didn't see it exiting the other end.
So can you take a Dacia Duster on this road? For sure, you can, but you will most likely not get it out of this road anymore 🙂
17. Tungnaárfellsfoss waterfall
Why go
When looking for off-the-beaten-track waterfalls, Tungnaárfellsfoss should not miss on your list. It is one of the widest waterfalls in Iceland and it is actually not that hard to reach.
Tungnaarfelsfoss is a wild highland waterfall close to Landmannalaugar and a popular stop for many private super jeep tours.
It takes just a short while to visit it, so if you are seeking for something different, this may be a thing for you.
Need an inspiration? Read about the best places in Landmannalaugar!
How to get there
Tungnaárfellsfoss sits right next to northern Road 208, former F208 North. It takes about 15 minutes of driving to reach the waterfall from the famous Sigöldugljúfur Canyon.
You will have to leave your car beside the road and walk to the waterfall via an unmarked trail to see it from the best viewpoint. In summer, any vehicle should be sufficient to reach this spot when driven correctly.
Our tips
Combine the stop at Tungnaárfellsfoss with the visit to Landmannalauagar. There are many amazing places to see in Landmannalaugar and around as well.
18. Ker cliffs
Why go
Ker is an often-overlooked peninsula in East Iceland with some unique and gorgeous hikes to take along its coastline. One such hike is a trek to the Þerribjörg Sea Cliffs, sometimes called Ker cliffs.
We've discovered Ker cliffs just by chance, and they quickly became one of our favorite hikes in the Eastfjords.
How to go off-the-beaten path in Iceland?
The coast of the Therribjorg, or Ker, cliffs forms one of the most breathtaking beaches and coastlines in Iceland. Moreover, it is very scarcely visited even during the high season.
How to get there
Ker cliffs are easy to reach via gravel road 917, or Hlíðarvegur in Icelandic. From the south it's just a comfortable flat-road drive. From the north, you must take the somewhat scary mountain pass.
If you are at least slightly adventurous, we actually recommend taking the mountain pass, be it before or after the hike. It offers fantastic views over the coast on a clear day, and the drive itself is an adventure too.
You can easily pass Road 917 in any car, typically from May until October. Just watch out for the official road conditions and potential closures and openings.
Our tips
Þerribjörg Sea Cliffs is an easy family hike that will take you about 1.5 hours to complete as a roundtrip. It is a great photo spot as well as a place for a small picnic.
19. Lónsöræfi
Why go
Lonsoraefi is a mountain range somewhat similar to the rainbow mountains of Landmannnalaugar, not yet been discovered by any foreign travelers. It offers wonderful hiking opportunities for more hardcore hiking enthusiasts.
Lónsöræfi is special thanks to its unconquered trails and thrilling views in the very remote surroundings. It's a hikers' paradise, especially for the locals who often visit the area in the summer.
Always check road conditions, weather forecast, and safety warnings before any trip!
How to get there
The main caveat of visiting Lonsoraefi lies in its accessibility. To get to the main Lónsöræfi area, you have to complete a drive on the road F980, Kollumúlavegur. That being said, F980 is one of the most troublesome F-roads in Iceland.
The main problem with F980 is one of the most treacherous river crossings in Iceland. Roughly around the mid-point of the road, you must cross the wide and deep Skyndidalsá river.
Never do this alone, not even in a super jeep! Always call someone local for help.
Our tips
Ask for assistance with the Skyndidalsá river crossing either at Stafafell guesthouse or contact the company called South East Iceland.
20. Markarfljótsgljúfur Canyon
Why go
Fjaðrárgljúfur Canyon and Stuðlagil Canyon are in every other Icelandic visitor's photo album. So how to beat all these crowds heading to these two canyons? Visit Markarfljótsgljúfur Canyon instead!
Markarfljotsgljufur is a massive ravine hidden in the highland next to the F-road F261. Some may argue it's even more picturesque than the other crowded canyons. It's undoubtedly unique and remote.
How to get to Markarfljótsgljúfur Canyon in Iceland?
You can hike along the edge of Markarfljótsgljúfur both from the eastern bank and the western back. And as is the case with many of Iceland's hidden gems, the canyon is not easy to reach.
How to get there
Regardless of which side you choose to hike to, you need to first take the highland road F261 to approach the gorge.
The western viewpoint is easier to reach but less spectacular. You must take a short but very rough dirt track detour east from F261. A large 4wd car or a super jeep is highly recommended.
The eastern viewpoint is even tougher to get to. You have to take the Emstrur dirt track toward the Emstrur hut. This is a longer and similarly challenging drive with some pretty steep ascents and descents.
Our tips
If you want to avoid the worst part of the Emstrur track, don't take the western branch! This is where the roughest and steepest part of the track is, where even our 31" Land Cruiser struggled to pass.
21. Morsárfoss waterfall
Why go
Do you know which waterfall in Iceland is the highest? No, it's not Skógafoss, nor Dettifoss. The tallest Icelandic waterfall is a little-known Morsárfoss.
Morsarfoss is no ordinary waterfall. It's a glacial waterfall falling down from a giant glacier in Skaftafell with a respectable height of 230m (750ft).
It's too dangerous to hike close to Morsárfoss, but you can still experience it from afar. Several treks can take you to the proximity of Morsárfoss, with the best one being a climb to Kristínartindar.
How to choose the Best car rental Insurance in Iceland?
How to get there
The best and most sought-for viewpoint of Morsarfossar can be enjoyed from the summit of Kristínartindar.
You may hike Kristínartindar from Skaftafell Park, but it's not easy and requires experienced hikers and good preparation.
It takes about 4 hours of climbing and 11km (7 mi) to reach the best viewpoints.
Our tips
Good weather is crucial for this trip. Wait for the day you are sure will be dry, windless, and fogless.
22. Blautulón Lake track
Why go
In Iceland, you may bathe in the hot waterfall or sail in the glacial lagoon. But did you know you can also drive through the lake in the highlands? You can do this perfectly legally on a Blautulon dirt track.
Blautulón Lake dirt track, which gradually turns into Skælingar dirt track, is one of our favorite highland tracks in Iceland. It's one of the old access roads to Lake Langisjór and one of the most deserted ones.
Our Skælingar-Blautulón road trip to Langisjór article.
The highlight of this drive is the picturesque, crystal-blue lake Blautulón. Once you arrive at the lake, you will realize there's no other way to continue than to drive inside the edge of the lake. There's even a road sign for this!
How to get there
To access the southern end of the Skælingar-Blautulón dirt track, you have to arrive by road F208, close to the Eldgjá area. The detour towards Skaelingar is then located just a few kilometers south of the detour to Eldgjá, just a few meters south of the little ranger's hut.
There's one medium to big river crossing right at the beginning of the track next to F208. So if you feel unsure about the drive, you may just turn back immediately.
The track doesn't involve any other river crossings, but you have to cross the lake. It is similar to fording a medium-sized river. A large 4wd car or a super jeep is necessary, and a car snorkel is a considerable advantage.
Our tips
If you are already experienced in driving through the highlands, we recommend you take a loop trail. Drive to Langisjór via F235 and come back via the dirt tracks of Blautulón and Skælingar. This is the most beautiful drive possible.
23. Kverkfjöll
Why go
Kverkfjöll is a glacial mountain range and an extensive hot springs area in the eastern highlands of Iceland. You can visit ice caves nobody knows about, observe hot pots and take several challenging hikes in Kverkfjöll.
If you aim for an adventurous experience without any fellow tourists, then Kverkfjöll may serve you well.
Never go without a guide or at least without consulting a Kverkfjöll ranger, though. You may have to hike through the glacier with a lot of crevasses. The local knowledge of the area is an absolute necessity.
How to properly cross Icelandic rivers with your car?
How to get there
You can access Kverkfjöll only in summer by the highland road F902, Kverkfjallaleið and/or F903, Hvannalindavegur.
F902 doesn't contain any river crossings. It's just a rough mountain road. That being said, all the connecting roads, be it F910, F905, or F88, all contain medium-sized rivers that have to be forded.
F903 is a bit tougher to drive with more challenging terrain and two unbridged medium-sized rivers.
Our tips
A hike from the Kverkfjöll cabin at the foot of the glacier to the hot spring area and back will take a full day. There are guided tours that start at the hut.
24. Vonarskarð hot springs
Why go
Vonarskarð is a hard-to-access hot spring area hidden in the central highlands of Iceland. Vonarskarð has a little bit of everything:
a little bit of Landmannalaugar-like mountains
a little bit of Kerlingarfjöll-like hot springs
a few colossal glaciers around
a lot of harsh central highlands everywhere
How to get there
Vonarskarð is one of the most difficult-to-access places in Iceland. It has two main access points:
The western one via the Svarthöfði dirt track
The northern one via the Gjósta dirt track
List of all F-roads in Iceland with detailed info on each road.
To reach these points, you must first get into the central highlands, either by road F26 or by the central F910.
Most of these roads involve crossing medium to big rivers, and we highly recommend driving them exclusively in a super jeep.
Our tips
We visited Vonarskarð because we'd heard a story from one hiker describing a beautiful remote hot spring where he supposedly bathed at. We desperately searched for this hot spring but haven't found any. Only steaming fumaroles not suitable for any bathing.
25. Bergárfoss waterfall
Why go
Bergarfoss waterfall is most likely the prettiest and most secluded waterfall in North Iceland. Foreign tourists only very rarely stumble upon this waterfall, and locals don't tend to visit the place either.
This makes Bergárfoss one of the hidden gems of North Iceland. The unclear directions on how to reach the waterfall will probably keep Bergárfoss away from the crowds for the time being.
How to get there
To reach the Bergárfoss, you must first get to the more famous Kolugljúfur Canyon. From there, take the local gravel road further to the south, but on the eastern bank of the river, not the western one.
Everything you need to know about Iceland in winter.
After about 4km (2.5 mi) long drive, you need to stop, leave your car at the side of the road, and continue by walking. Finding Bergárfoss is part of the adventure!
A 4wd car is necessary for all seasons to pass the gravel road safely. The road may be impassable in winter, although a large 4×4 car like Land Cruiser may be able to make it when appropriately driven.
Our tips
Please never block the road with your car, nor touch the moss or anything alive with your vehicle! Park on the gravel instead!
YOU MAY ALSO LIKE:

ask questions or get inspired in our community