Askja Volcano is one of the most amazing places in the Icelandic Highlands you can possibly visit.
Askja is an otherwordly moon-like area with several volcanic craters and calderas. The biggest one, Lake Askja, is filled with ice-cold water. On the other hand, the smallest one, Lake Víti, is a geothermal hot spring! 
Askja is not easy to get to, but its surreal landscapes are totally worth the difficult drive! We have been to Askja several times, and it is still one of our favorite spots in the Highlands of Iceland. 
Askja Map
The map below displays all roads leading to Askja caldera, river crossings, campsites, and all the interesting places around Askja. If you are looking for the main Askja hiking trails, scroll below.
How to get to Askja
You can get to Askja by various combinations of rough and long highland F-roads:
from the North via F88, F910, and F894 (easier terrain, sometimes difficult river crossing)
from the West via F910, and F894 (very difficult terrain, difficult river crossings)
You may drive to Askja yourself, take a guided bus tour, or a guided super jeep tour. Round trip to Askja takes around 5 to 7 hours of driving on 300km (185 mi) of roads.
By Car
We have driven all of Askja roads several times. Unfortunately, many "bloggers" out there will tell you many misleading facts about these roads, which they just copied from somewhere else. We won't 🙂
There are river crossings on the way to Askja. Please study how to cross rivers in Iceland in advance or don't go on your own!
The Easiest way
The easiest way to reach Askja depends on road conditions: 
If water levels are higher

, roads F905 and F910 from the east are the easiest way. In this case, the river Lindaá on F88 may become bigger and dangerous. F905 and F910 to Askja are much bumpier, though.

If there's little water in the rivers

, then F88 from the north is the easiest road to get to Askja. On dry days, the terrain on F88 is much much easier to drive compared to the combination of F905 and F910 from the east.
One of the common misconceptions about roads to Askja is that the most treacherous one is always F88 from the north. Many "bloggers" just write this without further explanation because they have never actually driven F88.
The truth is, it's all about the Lindaá river crossing on F88. If there's a lot of water in this river, then yes, this one spot is difficult, and you need a large 4×4 car to pass safely. In the opposite case of low water levels, F88 is in reality easier due to flatter and less bumpy terrain. 
Our Tip: If you are a first time visitor, better take the combination of the roads F905 and F910. If you already know how to cross rivers in Iceland, then F88 will be quicker and easier for you.
The Most Beautiful way
The most beautiful roads leading to Askja are undoubtedly roads F905 and F910 from the east. The surrounding landscapes are stunningly versatile.
You will be driving on gravel, through black ash fields, yellow sands, and even on huge volcanic boulders.
F88 from the north is, on the other hand, a bit monotonous with harsh and simple surroundings. The main attraction along F88 is a legendary Herðubreið volcano with a flat top.
What Car do You need
To safely get to Askja, you need to drive at least a medium-sized 4wd car. Roads to Askja are rough highland roads with several obstacles like sand, stone boulders, and river crossings.
We offer our readers exclusive Discount codes on best car rental companies in Iceland
Cars with higher ground clearance are necessary for Askja. Some examples of minimum capable vehicles include Suzuki Jimny, Dacia Duster, Jeep, or Land Rover. 
By Bus
You can take a guided bus tour to Askja from Mývatn. 
The main advantage of the Askja bus tour is that it's the cheapest option out there. The main disadvantage is a bigger number of co-visitors and likely nausea from driving.
By Super Jeep
The easiest and most comfortable way to reach Askja is by taking a super jeep tour from Akureyri.
Don't want to go on your own? Take an epic Askja jeep tour! 10% discount code: EPICICELAND
By Helicopter
Did you know you can even take a helicopter tour to Askja? Well, this is a bit unconventional way of visiting Askja but definitely a memorable one.
When to Go
You can visit Askja only in the summer, typically from July until September.
Askja opens to visitors once all the snow on the roads has melted and the roads are safe to drive. This usually happens between mid-June and early July.
The area then becomes inaccessible again sometime between mid-September and early October.
Askja is an active volcano area. Better check with the Askja ranger in Dreki before every visit.
Askja Volcano area
The main highlights of your visit to Askja will surely be the huge Lake Askja, or Öskjuvatn in Icelandic, and the smaller geothermal lake Víti.
A short glossary may be useful at this place:
Askja = name of the entire area; Askja is a volcano on the southern side of the big lake.
Lake Víti = volcanic crater you are probably aiming for, with blue picturesque geothermal water working as a hot spring.
Lake Askja (Öskjuvatn) = a big lake just next to Víti, with no geothermal water.
Askja hiking trails
There are three main hiking trails in Askja:
Lake Víti trail – 30 minutes of easy walking from Vikraborgir car park at the end of the road F894; the most popular and rewarding trail
Drekagil Gorge trail – 2 hours of more difficult hiking from Dreki huts to Lake Askja; an adventurous ravine trek with beautiful views over Askja
Dyngjufell trail – 3-4 hours to Dyngjufell hut; this is part of the long central highlands trail
Lake Víti
From the Vikraborgir car park, it takes some 20-40 minutes of walking the well-marked path with yellow sticks to reach the place everybody admires in the pictures – i.e. Víti crater. This was the highlight of our trip. From this spot, you may either:
Just admire the beauty of Víti crater and the massive Öskjuvatn lake next to it, or
Hike around the area, or
Hike down the Víti crater and swim in the green/blue geothermal water, as we chose
Lake Askja
Öskjuvatn, or just Lake Askja, sits just a stone's throw from the stunning Víti caldera. It is a fantastic photo spot on a nice day. We especially loved shooting both lakes in one picture.
Things to Do around Askja
Tourists normally head only to the main highlight, the Víti crater. But there's more to see around Askja.
Volcanos, lava fields, hot springs, and canyons are just a glimpse of the Eastern Highlands of Iceland.
Herðubreið volcano
Herðubreið volcano is the main highlight of the highland F-road F88 leading to Askja from the north.
Fun fact: Herðubreið is a legendary flat-top mountain which has even won the award "Best Icelandic Volcano".
You can drive up to Herðubreið by a very rough dirt track suitable only for super jeeps as a detour from F88. You can also hike to the top of Herðubreið, but it's a challenging hike.
Drekagil Gorge
Drekagil Canyon, or Drekagil Gorge, is a picturesque ravine connecting Dreki huts with Lake Askja. You can hike all the way through the canyon when the hiking trails are open. 
Always ask about trail conditions at Dreki Huts before going. There's a range during summer.
Holuhraun Lava field and F910
When, instead of taking F894 to Askja, you decide to drive F910 further toward the southwest, you will reach the Holuhraun lava field. 
Holuhraun lava field was formed during a huge and famous eruption in 2014 which lasted for 6 months and had been the biggest in over 300 years.
Laugavallalug Hot Spring
Laugavallalaug or Laugarvellir is one of the most spectacular hot springs in Iceland. It is actually a hot waterfall! 
We wrote in detail about how to get to Laugavallalaug in our Icelandic hot springs article.
Long story short, Laugavallalaug happens to be located quite close to Askja, on the southernmost end of the road F910.
Hafrahvammagljúfur Canyon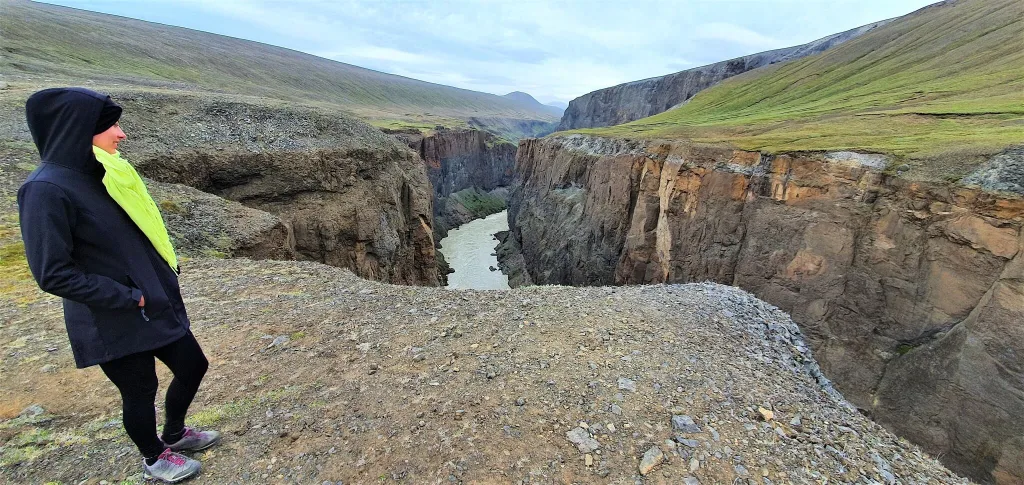 Hafrahvammagljúfur, although hard to pronounce, easily belongs to one of the hidden gems in Iceland. 
Hafrahvammagljúfur is a huge canyon in the Eastern Icelandic Highlands, south of Askja. Almost nobody visits this place, yet it is pretty accessible by road 910 from the south.
You can also get to Hafrahvammagljúfur from Askja by various combinations of F-roads. A medium-sized 4wd car is necessary from this direction.
Stuðlagil Canyon
You've probably already heard about Stuðlagil, or at least seen it in the photos. Stuðlagil Canyon has become one of the two most popular canyons in Iceland. 
Stuðlagil can easily be visited on a day trip to Askja because it's located next to the road F907 south of Askja. We wrote in detail about getting to Stuðlagil. 
Although suffering from over-tourism a bit, Stuðlagil Canyon is still a beautiful spot to visit, especially when the water is clear and not polluted by the Karahnjúkar dam.
Our Askja Experience
We visited Askja for the first time at the end of August on a beautiful sunny day. Having heard stories about terrible weather full of fog and rain holding at Askja for most of the time, this really seemed like a blessing. 
You can read in detail about our experience of visiting Askja for the first time.
Driving Möðrudalsleið
On our first visit, we arrived from Egilsstaðir on the ring road and then turned left for the road without any number on Google Maps with a fancy name Möðrudalsleið. I guess the more the road's name resembles some killing machine, the rougher the actual road is, but that's just what we'd observed. Nevertheless, Möðrudalsleið is a quite good gravel road compared to many other F-roads.
Before you go: study the F-roads and choose the high quality insurance!
Driving F905 and F910
After driving some two-thirds of the road, we turned left to F905, where a real adventure began. By "a real adventure," I mean nothing dangerous, just endless out-of-this-world landscapes as if you were on another planet. 
Different types of surface alternate between each other, each more beautiful than the one before. Gravel, clay, rocks, sand, sulfur – anything you can imagine, surrounded by unforgettable views of the volcanic hills. 
There are two medium-sized rivers on F905. When we reached the first river, there was already a 4×4 car waiting in front of the river, I think Toyota Landcruiser. It seemed like a driver wanted to see someone else cross first. I stepped out of the car and inspected the river. This one was not very wide, and I could observe where the best part to cross it was, even by visual inspection. The river's depth was some 40-60cm at the deepest point, so you ought to have an appropriate 4×4 car for medium-sized rivers and follow river crossing rules not to sink your car.
You can read in detail about our Askja river crossing experience in our first-time Askja experience article.
After spending some time on F905, the road turns into F910, which is very similar in its character to F905, just, once again, a bit different. There are a few parts of the road where you're going to drive on huge volcanic rocks, and you have to drive carefully not to damage your car – this is where a good 4×4 with high ground clearance is useful. 
Driving F88
On our second and third trips, we always drove the road F88. It is quicker, less bumpy, and generally easier to drive than F905 and F910. It saved us a lot of time.
The are two caveats to F88, though:
The first one is the Lindaá river crossing, which is typically even smaller than rivers on F905. But sometimes it may become bigger when there's too much water in Lindaá. In other words, rivers on F905 are more stable in size. 
The second one is the landscapes around F88 and the driving terrain. Both of these are, simply said, more boring compared to the surroundings of F905. 
Driving F894
Once you arrive at Dreki huts, you may leave your car here and go for an 8km hike towards Viti and Öskjuvatn, and you will enjoy the beautiful mountain area even more. What we did, was to drive as close to the actual geothermal Víti Lake as possible and spend most of our time there.
To do that, you must take the F894 road, i.e., a slight turn right coming from the F910 direction, standing in the Dreki huts spot. The road is rough and rocky, with volcanic stones and rocks everywhere. At the end of the road, you will reach the car park with another toilet booth called the Vikraborgir car park. This is where you have to leave your car.
Hiking to Askja and Víti
Hike to Askja from the car park turned out to be an easy walk on the flat surface. The hike is well-marked with yellow sticks. 
However, I can easily imagine this leisurely trek may become strenuous when the weather changes to wind, rain, or fog. Or the combination of all three.
Bathing in Askja hot spring
When we reached the Askja caldera, we decided (or better said, my wife decided) to hike down the Víti crater.
This was one of the few moments of our journey when I was a bit scared. The descent was steep, and the ground was covered with slippery clay, which means you cannot control your fall in case it happens.
Nevertheless, it's a short descent and not too dangerous, so in good weather, you should be able to make it. Once down in the caldera, you may enjoy swimming in the water with a temperature around 25°C, which is not a hot spring but warmer than air (at the time of our visit, around 10-15°C). Once-in-a-lifetime experience.
Driving to Studlagil and Laugavallalaug
If you want to reach the Stuðlagil canyon and/or the gorgeous Lagauvallalaug hot spring, you need to traverse south via the combinations of the road F910, F905 and possibly roads 907, 923 or F923.
Always check the correct Icelandic road map and current road conditions and closures when driving Icelandic F-roads.
Road 907 and 923 are just rough gravel roads without any sizeable river crossings. The conditions on the southernmost F910 and F923 are very similar to the rest of F910 and F905 – expect at maximum medium-sized river crossings.
Driving F910 from F26
On our fourth trip, we dared to drive F910, Dyngjufjallaleið, across central Highlands. This is one of the harshest and most remote Icelandic F-roads.
It took us 6 hours to drive the central F910 from Nyidalur next to F26 all the way to Dreki huts in Askja. 
You need to be well prepared to take this drive with enough fuel and, ideally, a super jeep or at least a large 4wd car.
Our Askja Tips
This is an active volcanic area. Eruptions cannot be ruled out. Always check the conditions in advance, ideally with a ranger at Dreki huts.
Askja crater is not easy to reach. Watch for any safety alerts and take special care about up-to-date road conditions.
Come on a clear day. Check the weather forecast and read Icelandic weather correctly. If you have too much fog, you may not see a thing and may lose a full day.
Get up early. And plan for a long day. It will most likely be one of the longest drives you will take in Iceland.
Bring hiking poles. If you plan to hike down the Askja crater or do any longer hikes. They are pretty slippery.
YOU MAY ALSO LIKE:

ask questions or get inspired in our community